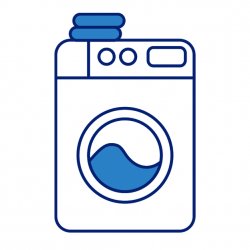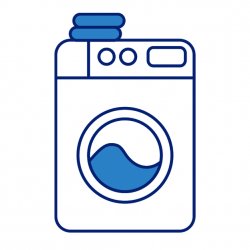 Washer Repair
A washing machine (laundry machine, clothes washer, or washer) is a home appliance used to wash laundry. The term is mostly applied to machines that use water as opposed to dry cleaning (which uses alternative cleaning fluids and is performed by specialist businesses) or ultrasonic cleaners. The user adds laundry detergent, which is sold in liquid or powder form, to the wash water.
---
Washer Won't Turn On
Power
The first thing to check is if your washing machine is getting power. Using a multimeter check the outlet voltage. If there isn't electricity flowing into your washer you'll need to check your household electrical panel to see if any circuit breakers may have been tripped.
Motor
If the washer's motor overheated the washer will shut down to allow it to cool before you can start it again. If this happens once or twice it may not be a problem, but if your motor frequently overheats it's critical to find out what is actually causing this to happen.

Not Draining Properly
Drain Hose
Many times a clogged drain hose is the reason your washer isn't draining properly. Remove the hose and visually inspect it for clogs. A garden hose can be used to flush any stubborn blockages from the hose.
Drain Pump
If you suspect that your drain pump is jammed, you'll need to drain your tub then disconnect and inspect the hoses for foreign objects. Don't forget to check the pump inlets. You may need to remove the pump from the washer in order to get a good look.

Will Not Spin and/or Agitate
Too Large of Loads
A washing machine will become unbalanced if there are too many clothes being washed in the same load. An overloaded machine will become unbalanced and not properly spin. This can also occur if the clothes are not evenly distributed within the basket.
Switches and Settings
The lid switch is located inside the cabinet near the door frame, and it's designed as a safety precaution to keep hands from entering a spinning washer basket. A faulty switch will prevent the washer from running. If the switch is bad, it will need to be replaced.

Washer Leaking Water
Drain Hose
When a washer leaks only during the spin cycle the likely cause is the drain hose.
Check the connections on the hose to ensure they are secure.
Check the condition of the drain hose, it should be free of cracks and damage.
Check the drain hose for any clogs. You might just find your missing sock!
Check the drain hose where it attaches to the washer. There should not be any cracks or leakage, if there is, you may be able to cut the end and re-clamp the hose. Although, you may want to consider purchasing a new one.
Fill Hose
The fill hoses could also be the culprit.
Check that the fill hoses are in good repair and are securely in place. However, they should not be over-tightened.
Whenever these hoses are removed a new rubber washer should be used when they are being put back in place. If a new rubber washer wasn't used, the problem could be the washer.

Washer is Shaking and Moving
Not Level
If the floor isn't level your clothes washer will definitely jump around. Many of the wash cycles, such as spin, can easily thru the unit into a shaking and banging mode, and if the washer is sitting on an uneven floor it will even add to the movement.
Washer Feet Improperly Positioned
Washing machines are designed to be adjusted to the floor surface so that they sit level and do not rock. The 2 front legs have a leveling mechanism with a lock nut to secure it in place. Adjust each leg to the correct height and tighten the lock to keep the leg from moving. There shouldn't be any movement in the front 2 legs once they are set.